Hiking to waterfalls in Arizona is kind of like a treasure hunt. You never know if you're going to see a trickle of water, no water at all or a roaring waterfall.
---
This post may contain affiliate links. Please read my disclosure policy.
---
With the amount of snow Arizona had this year, we thought we would have a good shot at timing it right. Sycamore Falls didn't disappoint.
Sycamore Falls
The Sycamore Canyon Wilderness encompasses more than 50,000 acres in Arizona. The canyons can be accessed from Clarkdale and as far north as Flagstaff and Williams. It falls within three National Forests: Coconino, Kaibab, and Prescott.
After the Grand Canyon, Sycamore Canyon is Arizona's largest gorge. Sycamore Creek is a major tributary to the Verde River. In this area it forks and if sufficient precipitation falls these forks create stunning waterfalls referred to as Paradise Forks.
When to Visit Sycamore Falls
Timing is key if you want to see an Arizona waterfall. The majority of waterfalls in the state are seasonal. Sycamore Falls is no exception. If you time it right you will see a roaring waterfall, or it might just be a trickle.
The best chance of seeing great water fall is after the winter snow melts or after a heavy monsoon season. This year was an amazing year in Arizona for precipitation. Flagstaff had a lot of snow. We visited in the middle of April and there was still some snow in the canyon.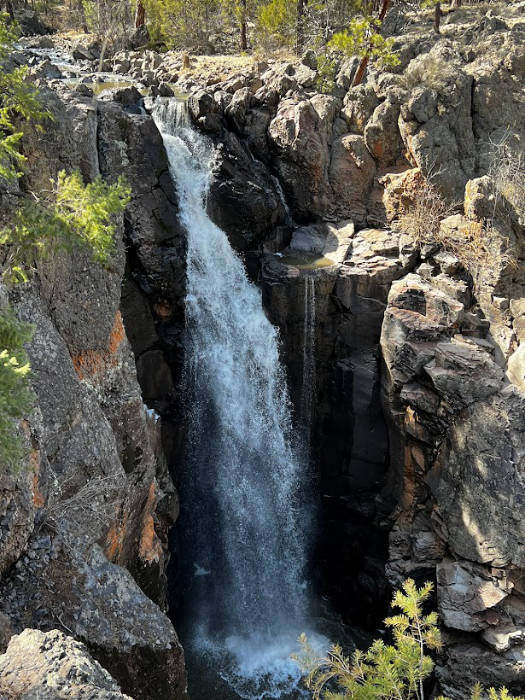 How to Get There
From Flagstaff, Arizona take Interstate 40 towards Williams. Take exit 178, make a left going south on Garland Prairie Road. Follow this road and veer to the right after you cross the railroad tracks onto Forest Road 141.
Please note: If the road is too muddy it might be closed.
This well-maintained dirt service road is about 9 miles long. After several miles you'll come to a Y in the road there is no sign, but continue left to stay on FR 141.
Continue driving until you see White Horse Lake Road and make a right. It is also called Forest Road 109. This road is less maintained and more like a washboard. A SUV or truck would be better suited for this road. Follow this road for about 4-miles until you reach the small parking lot and trailhead on your left.
Sycamore Canyon Waterfalls
If you're lucky to visit when the water is flowing there are several waterfalls in this area. Start your hike just behind the trail sign there is a rocky path down the hill. You will then come to a Y in the path. There is a post in the middle where a sign used to be.
The falls is a short .5 mile round trip hike. Paradise Forks is a unique area where Sycamore canyon comes to a fork
The good news is no matter which direction you choose it will lead you to a waterfall. We recommend going down both paths.
All the pine needles cover the path so it can be a little slippery.
We timed it well this year there were at least five waterfalls flowing.
Nearby Attractions: